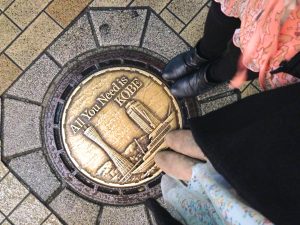 I am lucky enough for having the opportunity to pursue my studies in Kobe University. Why I could end-up here? Well, you could find it in another article about my scholarship-hunting story. I believe Allah has given me the opportunity which suit me the best. I am a simple-small town girl type. This is the main reason why I fell in love with Jogjakarta. The best part is I also having the opportunity to pursue my studies there.
Kobe is similar with Jogjakarta in my opinion. A small town. Less crowded than the infamous Kyoto and Osaka. Most people knew Kyoto and Osaka but less knew Kobe. Although it is actually only located around 30 minutes from Osaka and 1 hour from Kyoto. That is the best part! Why? Because when the sakura blooming season and peak of autumn has come, you can have a quick break from the crowd by visiting Kobe.  Let me give you 5 points why you should not miss Kobe from your itinerary while you visit Kansai area:
1. Kobe Beef
Maybe you only ever heard about Kobe from its infamous beef product. The wagyu Kobe beef. I am a broke student at that time, of course I could not afford Kobe beef. It equals with quarter of my scholarship for 100 gram savory Kobe beef.  Most people regarded their experience while tasting Kobe beef as unforgettable moments. The meat is melted in your mouth, you could not explain the sensation unless you tried it by yourself. Do not worry! Some restaurants also provide Halal Kobe beef for Moslem traveler.
2. Kobe Port Harborland
Port area of Kobe is the main attraction of this city. You should visit here during night because the city lights will pampered your eyes. Kobe is well known as a romantic city due to its magnificent port area. Less crowded people compare to Osaka and Kyoto also enhance your leisure time quality. Paid a visit by strolling around the neighborhood of Port Area with your loved ones. Enjoy the breeze from the sea and romantic city lights surrounding while eating your fresh seafood platter in one of several restaurants.
3. Kobe Mosque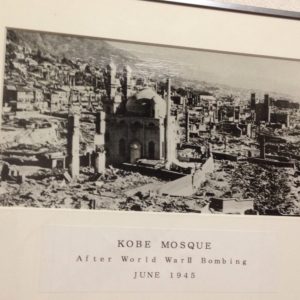 One of long-historical site in Kobe. As you can see in the picture above, Kobe Mosque is one of few buildings saved from the World War 2 bombing. A quite neighborhood with 2 halal-stores nearby the mosque. One store even located right on the opposite of the mosque.
4. Nunobiki Herbs Garden and Rokko Cable Car
Autumn is the best time to visit Nunobiki Herbs Garden. Taking the cable car and enjoy the city landscape from heights. The other attractive spot is Rokko cable car. Here you could ride a train with 45 degrees slope to the valley nearby Mount Rokko area. I personally recommend this ride because you could never find the same ride in another city. I only ride similar train in Blue Mountain Australia although it is waaaayy scarier with almost 90 degrees slopes. You could also experience petting sheep with your children there.
5. Earthquake Museum
A big earthquake happened in 1995. The earthquake leave the city in devastation. This museum was established in order to remember the earthquake and pay tribute to the victims. You could also learn about earthquake here. Your children could learn about the building structure which resistant to earthquake, how tsunami could happen, and also seeing pictures and items about the Kobe earthquake itself.
Next time you plan the Japan trip, don't miss Kobe!