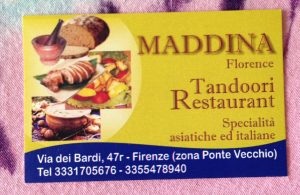 Have you ever wondered to finding halal restaurant in Florence, Italy?
Yes, this is the city where the famous movie Inferno taken place. At first I was quite in doubt to finding such halal restaurant in suburb area of Italy. However there is one and the only halal restaurant there named Maddina.
I bet from the name you were guessing that they only serve Indian cuisine. The answer is no! Instead they serve wide variety of Italy cuisine as well. At first when you entered the restaurant, you will feel classy ambience from the decoration and also the seating arrangement. The ambience is close to the high-end restaurant in my opinion. Surprisingly, the price is not that expensive though. Each menu start form 10 Euro exclude tax.
The taste is very delicious! Although at first I am quite nervous to order Italy cuisine in such an typical Indian restaurant. I was ordered cheese risotto. My husband was ordered spaghetti bolognese. Both of us also ordered lasagna since we really tempted with the display in front of the restaurant.
All menu are super delicious! It is the best Italian food we ever try in Italy so far.  Moreover, you can ask permission for using the praying space in this restaurant. Why I said it is a praying space because it is located in the basement. It seems that the room is their storeroom. They had prayer mat and also a rug there which you could use for praying.
If you ever had a chance to visit Florence, don`t miss this restaurant! It has all in one package. You can eat delicious food without worrying to finding prayer space nearby. Happy traveling!